News & Articles
How to Support Staff through Complex Personal Challenges
How to Support Staff through Complex Personal Challenges
February 22, 2022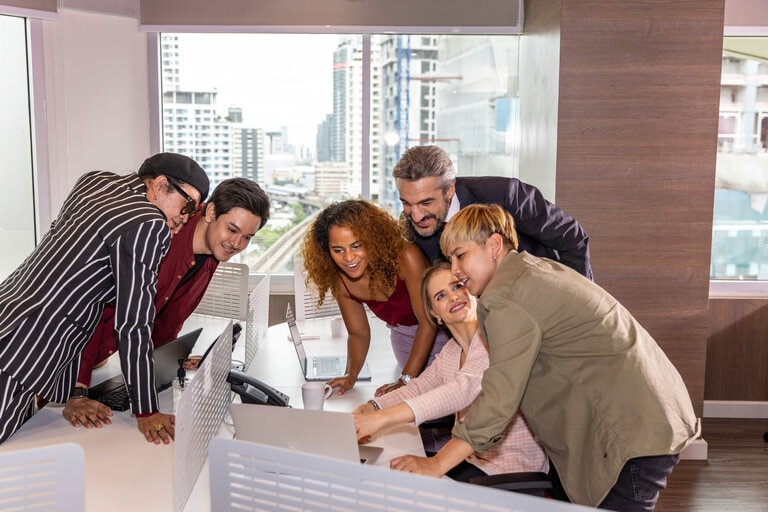 Creating an effective workplace support structure to ensure employees feel safe and respected is an ever-evolving challenge for businesses of all sizes. In 2022, companies are dealing with increasing pressure to prioritise employee wellbeing whilst simultaneously facing new situations that may be difficult to respond to.
In today's blog post, we're taking a look at two of the more sensitive yet increasingly common employee challenges and how companies can step up to support them. In a working world where employees have very high expectations of their workplace policies on diversity, equality and inclusion, it's essential for companies to be aware of such expectations and for key people to start thinking about how these can be accounted for in workplace policy and culture.
Gender Transition
With conversations about gender and identity at the forefront of global conversation, employers must ensure that the workplace encourages open dialogue to help individuals feel supported. Staff gender transition may or may not be an issue that is currently relevant within your company but employers may also be unaware that member/s of their team need this type of support.
As such, policies can be implemented so that employees feel able to talk about their transition with key staff members and address any issues. Implement workplace education initiatives within your workplace wellbeing program to encourage a healthy environment of acceptance and reduce the likelihood of bullying. This might be something more basic such as an information pack sent round by email from HR or a more structured initiative such as educational workshops; the exact nature of such educational support will depend on your company and resources. Include LGBTQ+ awareness in both leadership and more basic training to encourage a diverse workforce. This will also encourage individuals to have confidence and trust in their leaders for a more open, inclusive workplace culture.
Open Dialogue
Consider offering workplace roundtables or one-on-one sit-downs where employees can speak about any personal issues. Create a set of key criteria to address issues from a comprehensive perspective – this might include:
asking if the individual would like to change their name/pronouns in the workplace
asking the transitioning employee if and how they would like their transition to be communicated to their team
encouraging the individual to come to you immediately with any concerns about workplace bullying or abuse related to their transition
introducing PMI policies including benefits for gender transition or gender dysphoria with (often expedited) access to everything from support resources to surgical procedures
At the base of such support, encouraging a diverse office culture will lay the most effective foundations for open communication and acceptance. Flexibility is another integral part of this structure on both a practical level (allowing for reasonable time off for medical appointments) as well as introducing employee assistance programmes with specific support for issues surrounding transition. Where it is possible, introducing facilities such as gender-neutral toilets would go an extra step towards providing support. Every workplace should also have a zero-tolerance policy for harassment and discrimination, and include this in onboarding and ongoing training for full staff awareness.
Fashion giants ASOS are paving the way regarding support for staff going through gender transition. Alongside an open conversation culture and entirely gender-neutral policies, they have provided management guidance on gender reassignment to help managers understand and talk to their colleagues and provide them with the support they need. Their leave policy provides crucial support to those going through health-related life events, including gender reassignment while they have also taken steps to educate staff on specific phrases and words relating to gender, helping to raise awareness and improve support.
Infertility
Another sensitive issue that many people struggle with is infertility. With 1 in 7 heterosexual couples in the UK facing fertility issues and the rates steadily increasing, the likelihood is that every medium-sized workplace will have employees dealing with the physical and emotional impact of this experience.
As with gender transition and other sensitive issues such as menopause, the key issue is to establish solid support structures for your team. This should include mental wellbeing support such as employee assistance programmes or health insurance policies including fertility counselling. It also means providing a flexible work schedule where employees can attend important medical appointments without undue stress about taking time off work. Again, encouraging open dialogue and acceptance in the workplace with every aspect of health will go a long way.
Menopause and other Complex Challenges
We have outlined just two of the key issues affecting today's workforce. New research shows that nearly three-quarters of women (73%) experiencing menopause do not feel able to talk openly about their symptoms with colleagues, with more than one million feeling pressure to quit their jobs due to symptoms. There is clearly still a great deal of work that needs to be done to promote diversity and inclusion in the workplace and to ensure that individuals feel supported and understood.
Key Takeaways
Staff who are happy and healthy at work are more likely to be both productive and loyal to the company. Providing tailored appropriate and timely support helps to build a workplace culture where staff feel respected and that their wellbeing is being taken care of. In today's competitive business world, this is essential for companies that wish to stay ahead. For further advice, contact our employee benefits specialists today.
The information contained within this communication does not constitute financial advice and is provided for general information purposes only. No warranty, whether express or implied is given in relation to such information. Vintage Corporate or any of its associated representatives shall not be liable for any technical, editorial, typographical or other errors or omissions within the content of this communication.