News & Articles
How Well is your Wellbeing?
How Well is your Wellbeing?
June 25, 2019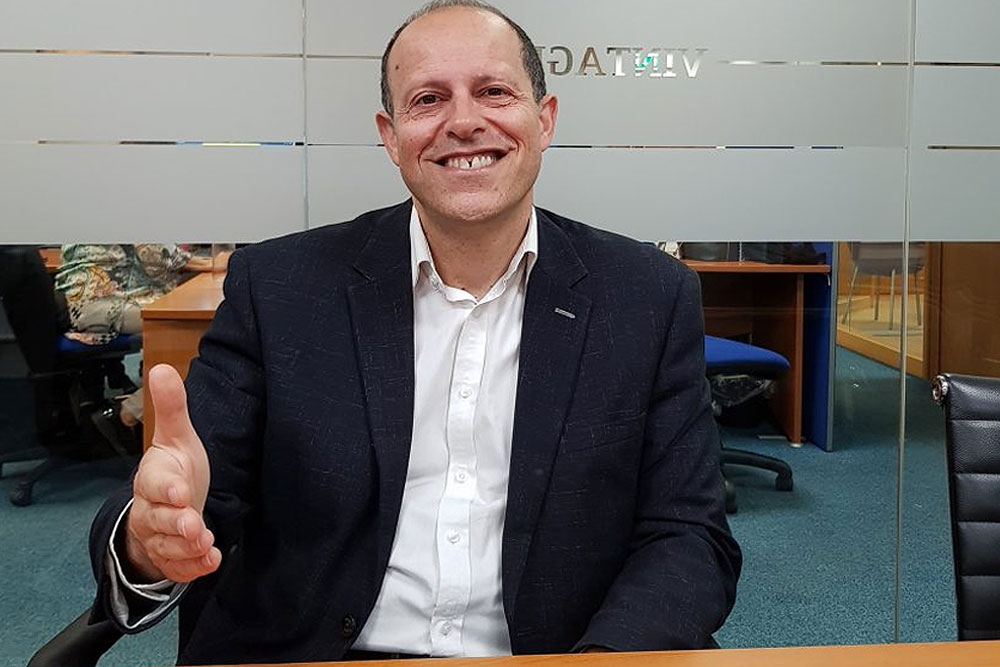 As part of a new blog and LinkedIn series, we are taking our readers behind the scenes at Vintage through in-depth thought leadership pieces with key members of staff. For the first instalment in our series, we are in conversation with Gary Briggs, Managing Director of Vintage Corporate, who has chosen wellbeing as his interview topic.
…
I have successfully worked with global brands and local small businesses to help employers and their team understand the benefits of benefits, blending a naturally gregarious and warm nature with expert insight and a staunch passion for my work.
When considering why financial wellbeing should be a priority for employers, it's important to look at the statistics. On average, employees take two full days out of their working life every year to deal with financial issues, and a recent survey shows that 8 out of 10 people have to deal with financial stress at some time in their life.
And therein lies a wider issue because there is no real route to personal financial advice for the young worker these days. Employers need to think about their financial wellbeing strategy but many don't know how to communicate these benefits in an effective manner. Indeed many employers still don't fully appreciate the potential benefit of offering financial wellbeing as an employee benefit.
So, why is wellbeing pertinent to both me and the current market?
First of all, there are very clear indications that good mental health is connected to good financial health and wellbeing. This could be something very simple like renewing car insurance; 'Do I go with the current insurer or spend time on a complicated comparison site?' It could also be something a lot more serious or something positive; 'I have a sum of money to put into a pension scheme, but which fund do I choose? Are the markets high or low?'
Whichever way you go with money, whether it is good news or bad news, you'll likely be bemused by the bewildering and sophisticated range of options out there.
The link between mental and financial wellbeing has significantly influenced the market.
When I look at online traffic and go to exhibitions, there is a huge amount of noise around wellbeing but I'm not sure employers have bought entirely into the fact there is a benefit to delivering financial wellbeing workshops and presentations.
There are websites that offer what we call automated nudges – electronic messages that say, for example: "Have you thought about your year-end tax planning?" but these lack the passion and emotion of the why. They have had some impact in the workplace, but I regularly hear from heads of Human Resources that they are not used very widely.
Instead, they are looking to redirect their money into more  'human' and engaging processes, and I think that's going to be really good for us. We can use our real-life experiences to tell the stories and deliver, on the back of employee benefits, financial wellbeing.
It is also important to note that the number of specialist financial advisers is diminishing. Around 20-30 years ago and before the recent eras of higher qualifications and strict regulation of the advice process, there was something in the region of 300,000 advisers. Today, there are just 25,000.
This is pertinent to Vintage Corporate because we talk to employers. They will have, at the very least, a pension scheme, but they have no effective mechanism of communicating how the scheme works or what the members can do with it, why it's good and what the options are, why there are changes in legislation and how they affect their team. This is because there are very few advisers wanting to do that stuff. But we do want to do it.
We go to workplaces and we get really good feedback when we talk to employees about the workplace pension scheme and their protection benefits or indeed general financial wellbeing and things you should look for to improve your whole mental health, as well as become a better engaged and higher performing employee.
This neatly sums up the reason why I would recommend Vintage Corporate as an employee benefits adviser – and one with a clear focus on the crucial link between mental and financial health. It's also the fact that Vintage bring something very unique to the market.
I've not seen anyone else do what we do in the guise that we do it. Especially as we also make sure it's relevant to our particular client. We do this very well as we understand the benefits they've got and link them to their staff to put their team in a better frame of mind and, for those who work in the financial sector, improve performance for the employer.
This ties into the key questions that clients often ask about wellbeing, as well as key aspects that employers often overlook.
They are more concerned with technical and process issues. Rarely do they turn around and say they want to better communicate or engage with employees about these things. I raise the question and ask them 'How do you know your employees are getting the benefits of this benefit?' The stock answer is 'It's in the contract.'
We encourage employers to see the value of us as advisers as a benefit itself, as well as to hire us to talk to groups of employees about the financial benefits they are being offered and the wider mechanism of looking after yourself financially even outside of corporate benefits.
My understanding and passion about the importance of wellbeing are evident and I find it easy to convey this sentiment to a larger group of employees and effectively communicate the benefit of benefits.
I'd like to think that with 30 plus years in financial services, I can deliver a huge amount of knowledge, process, and good tips to people who generally rely on the internet or a trusted friend. They rarely get a chance to engage in conversation with an expert and that's the major thing we bring – face-to-face, real-life engagement where we can sit in a room and listen to each other. I can give them passion, energy and guidance about things that they probably know need attention but are easily discarded for another day.
Maybe the most obvious part of this denial is people believing that they can't afford to save money when what they actually can't afford to do, is spend it. That's a powerful message that I deliver in my presentations and the line I always use is 'no one ever went broke from saving too much money.'
I'm helping people to see the longer-term focus with short-term immediate activity.
A lot of time in financial services you're selling promises. If someone dies or you die, your next of kin will get a lump sum pay-out. People understand the concept, but it has no tangible benefit for them right now.
But if you say to them, 'you've got no savings and you're going to go into debt for next year's summer holiday but you can take action now and make yourself feel better for it' then we can show them how their wellbeing, psyche and general mental health will be better for it. The employer can then benefit from that. Another example of the benefit of benefits!
It sounds like an effective process and the proof is in the pudding.
Last week we had our best ever feedback. It was a confusing situation where we were asked to manage two different styles of pension contribution being funnelled into one.
Most people were going to have to increase their payments, and the employer wanted that delivered in a professional manner. I encouraged them to let us do that but also talk about the wider financial wellbeing story.
They fed back the following day to tell us that they were inundated with thank yous for the content and delivery of our workshop and a record number of people had asked Human Resources to increase their pension contributions immediately.
Even more remarkably, people that the Human Resources team knew were in financial distress said they were going to do two things, a) sort themselves out with a debt counsellor and b) even though it's tough, put more money into their pension as that is clearly a route to being more financially secure. So, we know we're making an impact and changing lives with our wellbeing presentation.
Of course, nothing goes up in a straight line and I remain aware of the challenges of communicating wellbeing as a benefit.
With all employee benefits, the barrier is always the employer understanding and feeling the benefit, then wanting to pay for it to be put in place. But it's no different to the employer changing the furniture in the boardroom; it's just another expense but can they understand that there is real value for them?
Good heads of Human Resources see the value, push it, promote it and make us very welcome, and that's where it really happens. I think if the message was out that it's essential to promote wellbeing as a subject and not just the physical benefits, it will drive more engagement and emotion to change people.
The unique Vintage proposal comes into play again at this point, as we offer education, insight and counselling in various forms. These all reflect well on the employer as they're bringing something to the workspace that employees aren't expecting. It's more than just a boring conversation about pensions.
I am proud of creating meaningful relationships with every client and offering workshops that capture a good majority of the workforce through a number of sessions.
The rest of the message is delivered via word of mouth, and then we have the larger companies. When it comes to clients with thousands of employees, I am more than willing to embrace innovation to drive engagement in the most effective way.
We're currently in talks with a major client to create podcasts to communicate the benefit. This is our next step for larger audiences so that we can project the benefits of the benefit in a way that the team won't have seen before. We want to show that we understand what people are thinking by putting ourselves in the audience's shoes, but with 30 years of customer facing experience. We are adding a human aspect and I like to think that when I'm delivering the message, I'm a very believable character, avoiding language that frightens them and using scenarios that they can see themselves being a part of.