News & Articles
Protecting Mental Health This Winter and Beyond
Protecting Mental Health This Winter and Beyond
December 23, 2020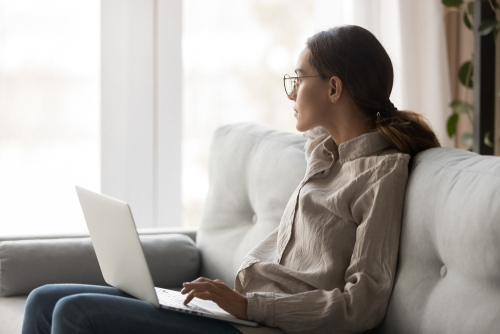 Wintertime is difficult enough for many of us as the dark mornings and short days take their toll on our mood, but this year the issue of mental health is all the more concerning due to the restrictions imposed by COVID-19.
Without that escapism of cosy evenings at home with extended family, and festive adventures socialising with friends, the long months ahead feel especially daunting and bound to test even the toughest among us.
The mental health impact of the COVID-19 pandemic is serious and the UK government is well aware of the issue. We welcome their demonstrable commitment to supporting mental health and wellbeing through their November 23rd policy paper focused on staying mentally well through the winter and beyond.
The paper outlines the support available to help mitigate the impact of the pandemic on people's mental health and wellbeing with key sections focused on empowering people to look after their wellbeing, support in communities (such as for those experiencing a mental health crisis), and support available for the especially vulnerable, such as the elderly.
The Role of Employers
There is also an entire section dedicated to wellbeing at work. This is an important issue at the best of times, let alone during the dark days of the pandemic. With a sharp increase in feelings of frustration, anxiety and loneliness among employees, many of whom are struggling to adapt to the isolation and blurring of work-life boundaries associated with working from home, it's essential for employers to understand how they can support their teams during this time and make effective use of the extensive resources available.
Employees may well look to their employer for support during these difficult times, and mental health has already become a priority for most companies since the negative effects of the pandemic on employee wellbeing became apparent. But that's not to say employers are necessarily equipped with the tools they need to support their team, which is where the policy paper comes into play.
Practical Strategies
The paper includes practical tools to help employers build strategies to support workplace wellbeing. This includes a signpost to the HSE's 'Talking Toolkit', encouraging healthy employer-employee conversation and helping team leaders learn how to both identify and mitigate work-related stress. It also provides details on tangible actions that can be taken such as stress risk assessments to keep ahead of issues before they escalate.
The Mental Health at Work website include some more practical support for employers while the 7 simple tips outlined on the Every Mind Matters website are designed to help employees deal with working from home and setting strict boundaries between work and personal time in order to minimise stress and exhaustion.
The policy paper also dedicates a section to the link between financial and mental health, outlining the measures in place to support individuals through the pandemic, such as the Coronavirus Job Retention Scheme and Coronavirus Statutory Sick Pay Rebate Scheme. The paper includes links to the COVID-19 response Money Navigator Tool with mental health support specifically for those concerned about financial issues.
The Role of Benefits 
A commitment to employee wellbeing also means recognising the valuable role that benefits can play in the overall picture. Gary Briggs, Vintage Corporate's Managing Director, is also Treasurer and policy committee member at Group Risk Development (GRiD) – the industry body for the group risk protection sector. GRiD have responded positively to the government's policy paper and emphasised the key role that employers can play in meeting the mental health challenge head-on by drawing on the value of group risk benefits.
Spokesperson Katherine Moxham emphasises that "understanding and compassion during an employee's time of need … will win the loyalty and commitment of their staff…"
She also talks about the life-saving mental health support available via group risk benefits, including "employer-sponsored life assurance, income protection and critical illness – including access to an Employee Assistance Programme, fast access to talking therapies, access to virtual GP services, apps for managing mental health and more, at no extra cost."
Shaping Good Mental Health
Good wellbeing and mental health are essential for individuals and teams to feel fulfilled, productive and secure, and employers have an important part to play in shaping individual team member's mental health and resilience using a range of factors at their disposal.
COVID-19 has created an unusual and unexpected work environment for many of us, and it is up to employers to prove how much they are willing to support their team through a tailored benefits package that really meets their needs.
Our expert team at Vintage Corporate work closely with our Vintage Health colleagues to provide access to bespoke employee benefit solutions for businesses of all sizes. Contact us today to find out how we can help you weather the COVID-19 storm through the winter and beyond.