News & Articles
The Future of Agile Working
The Future of Agile Working
April 21, 2021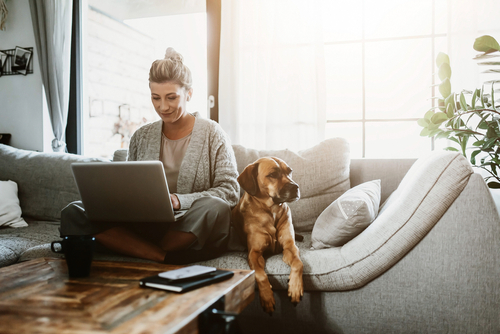 We already know that COVID-19 has changed the game when it comes to home working. But as we gradually move back towards our normal way of life, many companies are choosing to take key lessons from the pandemic and maintain the agile working model.
Normalising the Work-Life Balance
The UK government has already called for flexible working to be normalised, in the best interests of both employers and employees. Liz Truss, the Minister for Women and Equalities, has voiced her support for flexible working as a standard option for employees, including part/flexi-time, working from home and job shares.
Our working population has taken on a new mindset since the onset of the pandemic. Many more people are now keen to work from home on a more permanent basis even once workplace restrictions are lifted.
Research from the government and jobs website Indeed shows that offering flexible working arrangements would increase job applications by 30% and add at least 174,000 additional flexible jobs to the UK economy per year.
Changing Social Policy
As a gamechanging study in social policy, this identifies a clear need for companies to tap into – where flexible working helps break down barriers for employees such as the need to live in costly accommodation close to the city centre in order to be close to the office.
There are also socio-economic factors to consider. The agile working model would support those working outside major cities by levelling out the playing field and expanding opportunities to those who may previously have lost out simply due to geographic inequality. It would also support women and balance out gender inequality in the workplace, with women currently twice as likely as men to work flexibly, often due to childcare duties.
Financial Focus
Flexible working is a key way to close the productivity gap and boost morale, and financial institutions have been some of the most responsive to the agile working phenomenon. Earlier this year, HSBC announced plans to move to a permanent flexible working structure with an agile workforce able to work from home whenever they want to.
This will ultimately reduce the company's long-term office space needs by 40% globally, Chief executive Noel Quinn revealed that this new, very different style of working was enabling staff to achieve a better work-life balance
Other banks are taking similar steps. Standard Chartered moved to permanent flexible working back in November after signing an agreement with flexible workspace provider IWG.
Lloyds Bank is set to shut 20% of its office space by 2023 as part of a push towards flexible working. The majority of their 60,000 staff moved to working from home when the pandemic struck and a recent employee survey found that 77% want to work from home at least three days a week even after the pandemic subsides.
Nationwide have also said that its 13,000 office-based employees can do their jobs from anywhere in the UK, even after the pandemic is over. This comes after an employee survey showed that just 6% of its employees said they wanted to work in an office five days a week once the pandemic is over and more than half (57%) want to work from home full-time.
Collaborative Office Culture
Another key trend to emerge from the pandemic is companies rethinking how they use their office space. We expect to see more collaborative workplace culture rather than individual desk working. Lloyds has already announced plans to rethink their space while Nationwide has said it will continue to invest in offices, "ensuring they are suited to a work culture focused on colleague-led flexibility and choice." For Nationwide, this means "more collaboration spaces, fewer traditional meeting rooms and a range of wellbeing measures". For other companies, it will be measures that best suit the number of employees, team structure and overall workplace culture.
This seismic shift in our working culture provides opportunities for every employer to tap into the evolving needs of their team and focus on how people can do their best work rather than where they are located.
The pandemic has increased employee expectations from both their current and future employers with regards to agile working but it is essential for employers to consider the results of the study through the lens of their individual company. Some people prefer to work in the office environment and will, indeed, be more productive in this context; others are more productive working from home. For support and guidance with navigating the new landscape, contact our employee benefits team today.