News & Articles
Bringing Financial Wellbeing to Life
Bringing Financial Wellbeing to Life
July 5, 2019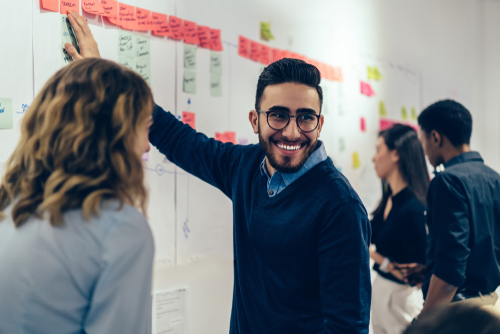 It is one challenge to raise awareness of why wellbeing is important, but it is a whole different ballgame when it comes to helping employers understand how to deal with it.
There are clear communication barriers to break down on both sides of the coin. Many employers don't quite understand how to convey the benefit to their team and employees are a little lost when it comes to asking for advice.
There is no one-size-fits-all solution either, as the challenges are vastly different in smaller, boutique and start-up companies in comparison to large corporations.
The fact remains that wellbeing needs to be brought to attention on a wider scale; further, the link between mental wellbeing and financial wellbeing needs to be illustrated to employers and employees with clear routes to advice offered so that every individual can take advantage of the benefit.
Real-Life Scenario Exercises
Recent market analysis emphasised the distinct need for such guidance in the workplace. Research by Scottish Widows found that 73% of people want a financial adviser to help them predict how major life moments could impact their finances.
In addition, one in four young people (aged 18-34) want their IFA (Independent Financial Adviser) to offer real-life scenario exercises for common situations such as marriage, divorce, and starting a family.
It is important to note how times are changing. This figure is four times higher in comparison to those employees aged 35 and over which shows that the way in which benefits are communicated needs to change and evolve in line with employee needs.
The Scottish Widows data shows that those aged 18-34 are moving far away from the traditional advice model and towards a more flexible and personalised service.
Among key findings, many are far more open to new methods of communication such as chatbots and social media. There is also increased interest in ethical forms of investing while new research shows that robo-guidance or a robo-investing service might also be considered.
Advice Model Evolution
Another issue that could potentially spiral out of control is the changing habits of young people. As many choose to get married later in life or not get married at all, there is far less awareness around how and when they need to seek financial advice.
In the absence of such clear milestones, employers must bring the financial solutions to their team by using IFAs, instead of waiting for the team to identify the need for action to be taken themselves – and then acting on this need.
Research by Smarterly into 'Realigning the workplace savings offering to meet the needs of millennials' surveyed employees and HR professionals in the UK to show that 86% of employees with financial concerns would accept financial support from their employer. In addition, 66% think that having this type of support would make them feel more comfortable in making financial decisions.
But a significant issue remains because many older employers believe that financial support begins and ends at pension provision. The Smarterly research shows that 28% of employers feel that they should only be responsible for providing a pension rather than other forms of saving vehicles. This identifies a clear need for key decision-makers to understand the need for a wider approach to financial good health.
Saving for retirement is no longer the prime financial concern for younger people and employers/benefits packages need to respond appropriately. Retirement may be the end goal but there are many financial milestones that people need to tackle beforehand, such as buying their first property – a key ambition for younger people.
There is also a common misconception among people of all ages that financial advice is only a luxury for the rich. The truth is that none of us can afford not to look after our money. Financial wellbeing focuses strongly on the education aspect to help people understand current and future financial risk and put the measures in place to prepare accordingly.
Bringing Financial Solutions to Life
Among increasing demand for face-to-face interaction and engagement to bring common scenarios to life, our team at Vintage Corporate have found that workplace workshops are highly effective for businesses of all scales.
With financial priorities and goals vastly different across the different age demographics, segmentation is key to communication and the provision of personalised financial advice.
In line with this need, our workshops can take on many different formats depending on the size, goals and structure of the company. This might mean a workshop for the entire team in smaller outfits or a series of smaller workshops to meet with different teams in both small and large workplaces if a diverse range of needs must be taken into account.
The workshops may also be grouped by key factors including age, salary or how long the employee has worked at the company. Part-time, remote and other unique working situations might also be considered.
We bring financial risk and solution to life in a non-threatening context to help individuals understand how to build a resilient portfolio. This method also supports those employees who may already be in financial jeopardy, in facing up to their issues.
Asking the Right Questions
Many individuals could not previously comprehend how to ask for advice, and this is why face-to-face contact is so valuable. We foster an environment that encourages employees to ask the right questions about their financial future and address specific individual issues.
Inheritance tax, pensions, getting on the housing ladder and dealing with debt are just some of the more popular topics covered at our sessions.
Follow-up from past workshops shows that some clients have seen a record number of employees voluntarily increase their pension contributions.
Employers have also reported that clients in financial distress have taken action as a result of the workshops, by arranging an appointment with debt counsellors as well as putting more money into their pension.
For more information on arranging financial wellbeing workshops for your team, contact Vintage Corporate today.