News & Articles
Millennials and Financial Stress
Millennials and Financial Stress
November 29, 2019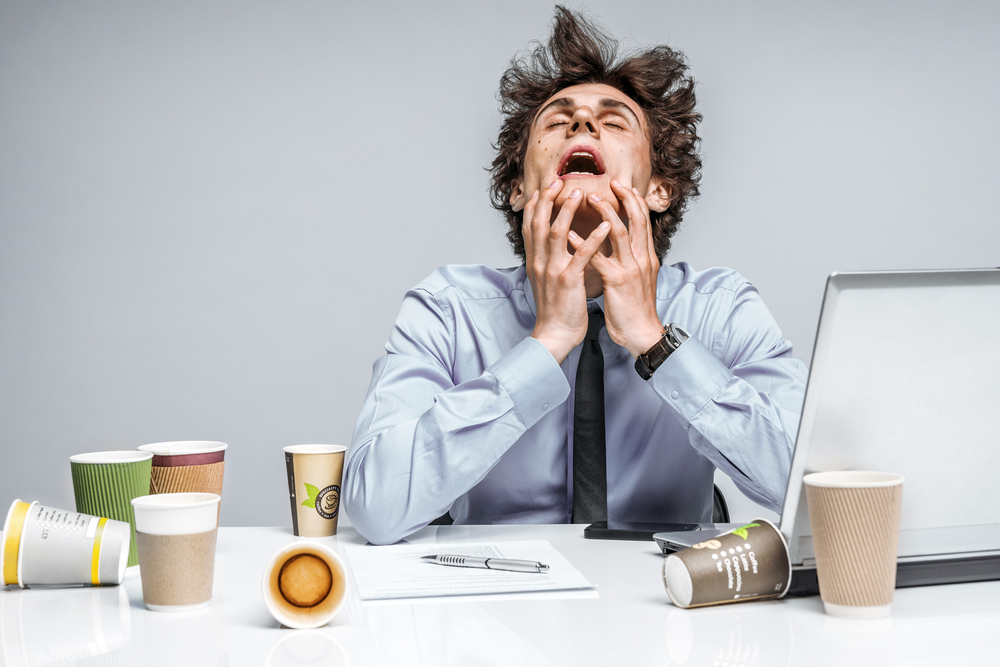 Most of us feel stressed and anxious at one time or another but the latest insights from GRiD – the industry body for the group risk protection sector  – show us just how much of a problem that we are facing as a nation. And it's spilling over into the workplace.
A survey of 500 HR decision-makers undertaken by Opinium in spring of this year shows that stress and anxiety about finances and debt is the biggest employer concern when it comes to millennial staff.
Stress and anxiety related to home life and working life, the latter including the pressure of overworking and uncertainty about the future, followed financial concerns to round off the top three health & wellbeing issues that employers believe most affect their millennial workforce.
This is a sobering study as it shows us just how early financial issues can begin, with "millennials' for the purpose of this research covering those aged 24-42 (otherwise known as Generation Y). It also highlights to employers how benefits are by no means a one size fits all solution.
Businesses of all sizes should regularly review their employee benefits package both to cater to the specific circumstances of each generation and to ensure it remains relevant to their workforce.
Mental Health and Financial Wellbeing
By coming to financial planning as early as possible in our working lives and firmly acknowledging the link between mental health and financial wellbeing, we set ourselves up with the best chance of success. We also remove a huge amount of unnecessary stress and pressure from our day-to-day lives.
When it comes to financial planning, employers should encourage employees to think about the good and the bad days that life can deliver. Both can have a significant impact on personal finances.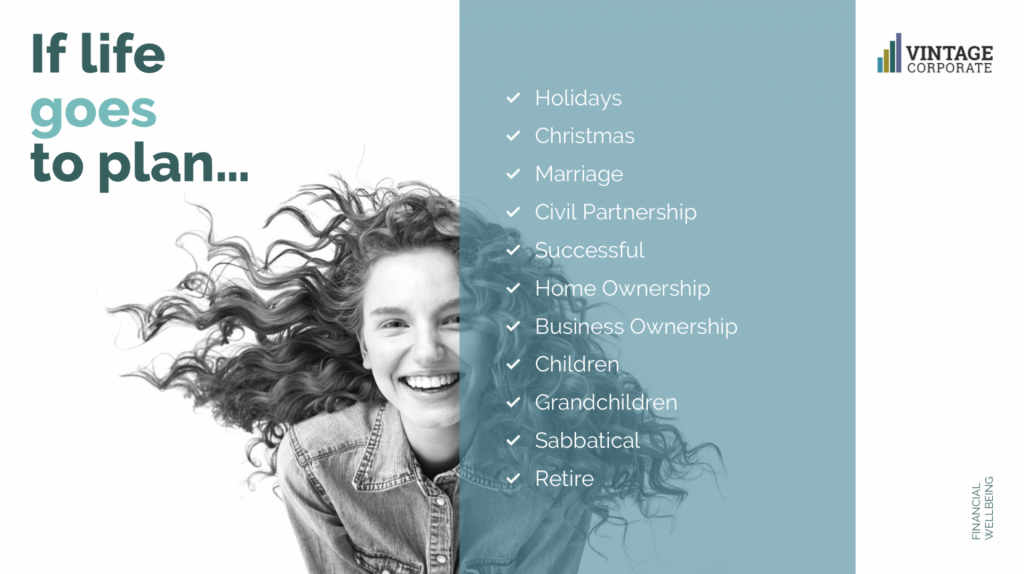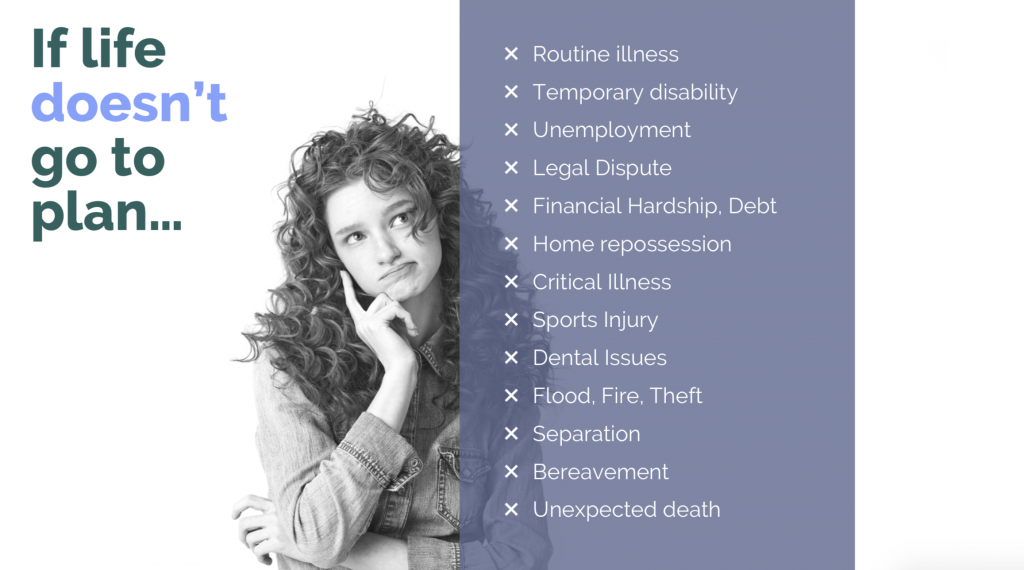 By supporting employees in starting financial planning earlier rather than later, employers can demonstrate that they are taking tangible steps to nurture employee wellbeing beyond the confines of their day-to-day role.
Taking steps towards healthy and tailored financial planning will also release some of the pressure employees are under, as highlighted by the GRiD research, for a subsequent positive impact on workplace productivity.
If you're familiar with Vintage Corporate and the services that we offer, you will already know that we place great emphasis on the link between financial health and mental wellbeing. With stress and anxiety such a prevailing cause of concern for employees of all ages, it is inevitable that it is also a cause of concern for employers.
But despite millennials dealing with the highest student debt levels ever, property price rises and a fiercely competitive job market, it remains a challenge for employers to truly emphasise the need for such protection to this section of their workforce.
How Well is your Wellbeing?
Our recent thought leadership piece from Vintage Corporate Managing Director, Gary Briggs, took a deeper look into the importance of face to face engagement and tailored delivery when communicating the benefit of benefits – and financial wellbeing in particular.
A recent survey shows that 8 out of 10 people have to deal with financial stress at some time in their life but there is no real route to personal financial advice for the young worker these days. The need for more 'human' and engaging processes to illustrate the importance of financial wellbeing is stark, especially when it comes to Millennials who have such high expectations in this aspect.
Our team works to bring financial wellbeing to life by delivering workshops and presentations tailored to every individual workplace. We understand how important it is to have "the passion and emotion of the why". and we have successfully worked with global brands and small local businesses on their employee wellbeing strategies using this approach.
We use real-life experiences along with an evident understanding and passion about the importance of wellbeing to promote the issue via education, insight and counselling in various forms. This encourages engagement and emotion to put teams in a better frame of mind and drive positive change. It also emphasises how our expert team is uniquely positioned to provide workplaces with the opportunity to adopt a longer-term financial focus using short-term immediate activity.
How? By helping them understand both the concept and the tangible benefit that financial wellbeing has for them regardless of whether they will feel that impact in the imminent or distant future.
When Life Doesn't Go To Plan
It's inevitable that life does not always go to plan, so it's no wonder that so many employees in the UK are distracted and stressed by the possibility of things going wrong for their employees. There is also a clear knock-on effect of stress in the workplace on productivity, profit and the business bottom line.
It certainly pays off to invest in your team, and that means supporting them now rather than later. As a prime example, the graphic below shows the cost of delay when it comes to building up retirement income.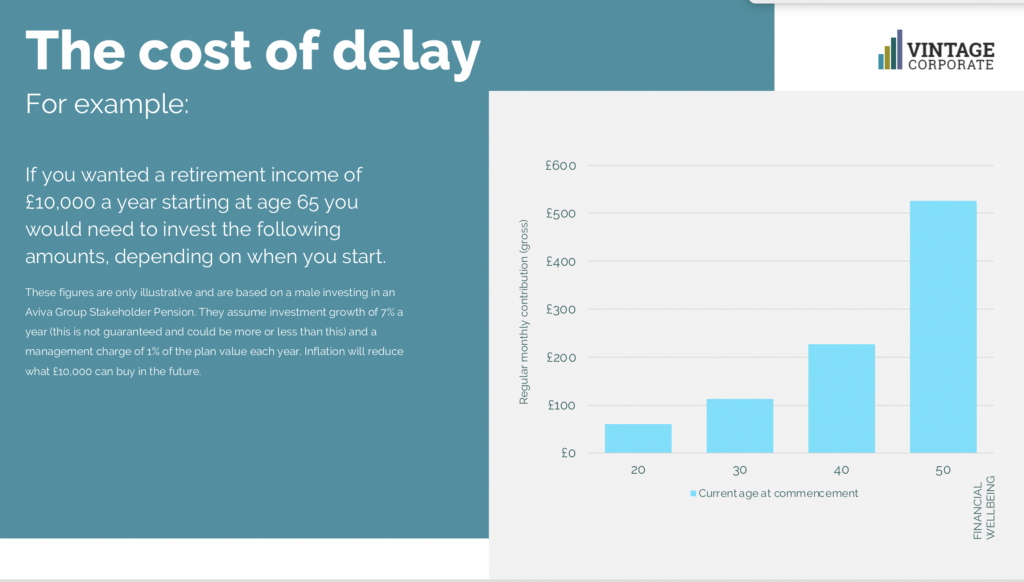 With such a comprehensive range of group risk protection products available including employer-sponsored life assurance, income protection and critical illness cover, employers can take positive steps to reduce financial-related stress and anxiety in the workplace for both Millennials and the wider workforce.
As group risk protection products are relevant for every age group and profile, there is ample opportunity to create a benefits package that offers financial support combined with other intrinsic benefits and tailored to the individual's life stage.
For example, Health Cash Plans cover the everyday health needs of employees by providing cashback for dental, optical and physiotherapy costs. They also typically offer wellness services such as the Employee Assistance Programme (EAP) and 24/7 Counselling & Support Helpline which provides employees, their partners and dependents with professional support, guidance and counselling at the time they need it most.
When employees know that they are supported in both good times and bad, they will inevitably be more relaxed, productive and focused in their day to day working lives. We can never erase stress from the workplace entirely, but group risk products go a long way to meet employee needs when the chips are down. It's simply up to the employer to recognise the benefit of benefits.
The graphics in this post are taken from our new wellbeing presentation which we present in full at workplaces around the UK. For more information on how Vintage Corporate can support you in supporting your team, contact us today.